Link In Bio: What It Means & Why It's Important
You've probably seen the phrase "link in bio" on your favourite artist's social media platforms. But what does it mean and why is it so popular with musicians? In this article, we break down what the interchangeable terms "link in bio," "smart link" or "bio link" mean and how you can use bio links to better engage with your fans.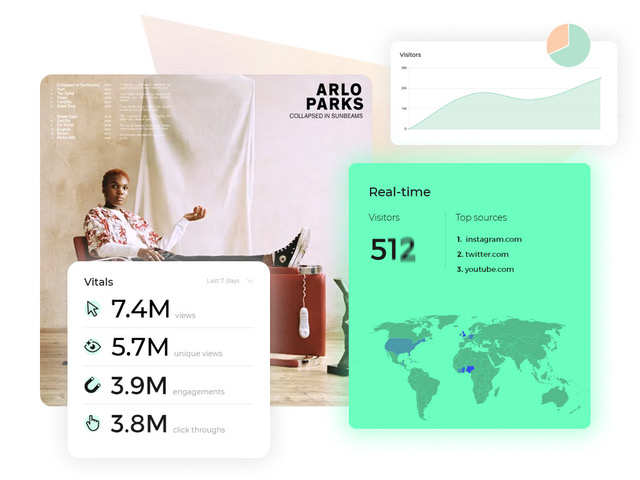 What is a link in bio?
Essentially, a link in bio refers to a landing page that contains several links related to your brand or campaign. By having a central location, you can easily redirect other people to different websites or platforms. You also have the added advantage of promoting all your other links via this one landing page.
For example, if you're launching a new single, having a bio link that includes all the streaming services your song is currently on is beneficial, as fans can choose which service they prefer. Your landing page can also include a link to your socials that potential fans can check out after listening to your latest single. As a result, you increase cross-platform engagement.
Bio links have the added benefit of being fully customisable. Therefore, you can customise them to fit your branding. In addition, most smart link services have added features such as email capture, merch integration, analytics, custom subdomains, and more.
5 ways to use bio links
Direct people to your latest release
If you have a release coming up, make sure you create a smart link to encourage people to pre-save your single or album. In this way, anyone who stumbles across your profile can easily listen to your songs via their favourite streaming service.
Sell merch
Merchandise is one of the main sources of income for artists. Add a link to your merch store or Bandcamp to your bio link, and you can rest assured your sales will increase significantly. By adding your merch to your bio link, you can simply share one link on your socials and avoid spamming people with multiple links.
Promote upcoming performances
Bio links are a great way to list all your upcoming dates on one landing page. By providing a more user-friendly landing page, fans can easily buy tickets, resulting in more sales.
Direct people to your website
Your website should be your digital business card, while your smart link should serve as a virtual hub leading to different platforms. Therefore, linking your smart link to your website is a great way to funnel your smart link audience to your website.
Analyse your audience
Smart link services such as AmplifyLink have an advanced analytics integration that allows you to analyse who your audience is. Analytics integration is important for smart links so you can track what resonates with your audience. With analytics integration, you can track metrics such as engagement rates, unique views, number of interactions, and more. Knowing these data allows you to make marketing decisions based on hard cold facts.
Final notes
Having a smart link can make all the difference between a hugely successful and a less successful campaign. By leveraging the full power of your bio link, you can increase your engagement rates and successfully convert casual listeners into hardcore, gig-attending fans.