How To Build An Email List: 5 Easy-to-follow Steps For Musicians
As a musician, connecting with your fans is essential for building a successful and sustainable career. While social media platforms and streaming services offer valuable avenues for engagement, an email list remains a powerful tool to establish a direct and personal line of communication with your audience. In this comprehensive guide, we're equipping you with the tools to build your very own mailing list, enabling you to cultivate a loyal fanbase, and maximise your reach.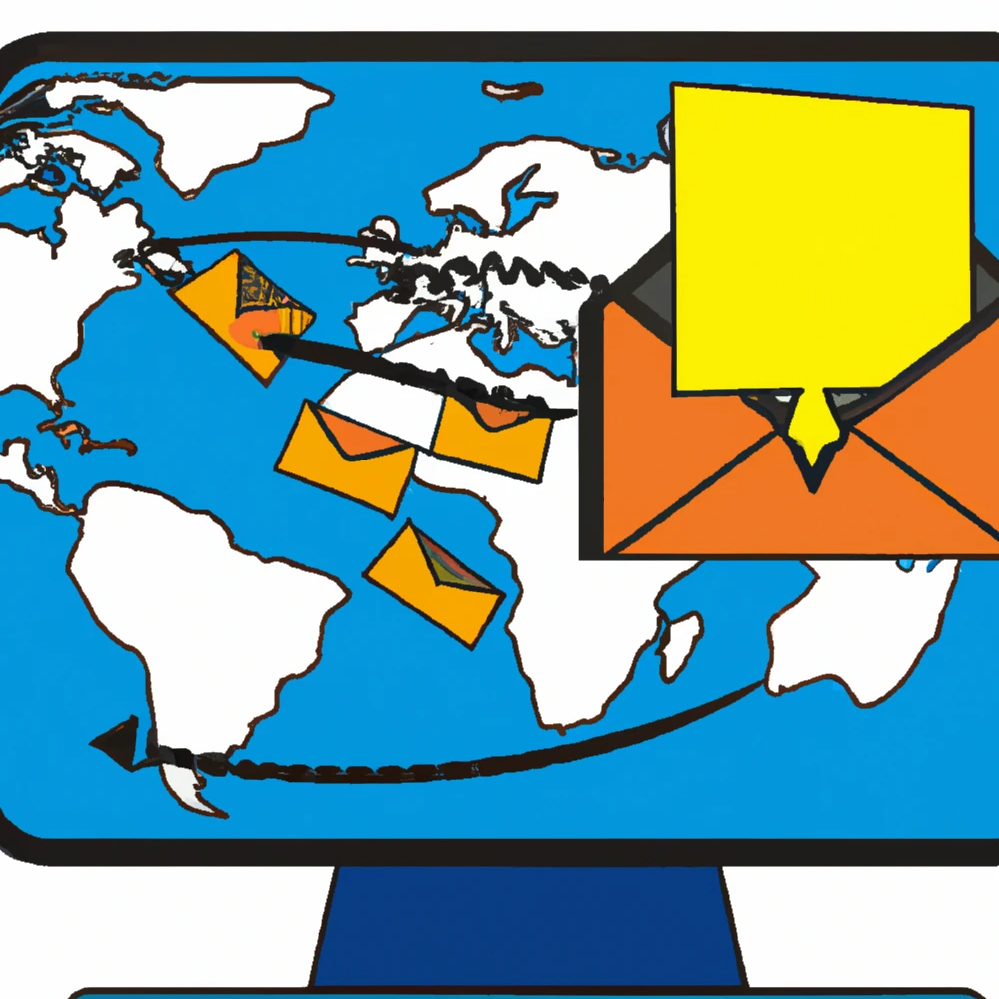 How to build an email list: The power of a mailing list and why you need one
Unlike social media, which relies on algorithms and fan engagement, an email list gives you full control over your communication with fans. It allows you to bypass gatekeepers and the restrictions imposed by social media, and ensures that your messages reach your fans and followers directly.
It's safe to say that, if built right, your mailing list can become the backbone of your artist-fan relationship. It not only allows you to communicate important information such as album and show announcements, but it also offers an ingenious way to share exclusive content and build a more personal relationship with your fans.
Step 1: Choose the Right Email Service Provider (ESP)
First off, you need to select the right email service provider (ESP). There are various different platforms available, with some of the most popular ESPs being Mailchimp, Constant Contact, and Campaign Monitor. Take a look at the list of features, whether they offer a free plan, and whether you can work your way around the interface. Research and compare different platforms before deciding on one that best suits your needs.
Step 2: Give Fans a Reason to Subscribe
With the amount of newsletters and emails sent daily to each of us, it's important to think about how your emails offer value to fans. Will you use your email list exclusively for announcements and pre-sales? Or will you only offer exclusive content? Coming up with incentives that make subscribing worthwhile is important to ensure that your fans engage with your emails and don't immediately trash them.
Step 3: Optimise Your Website and Amplify Artist Page
Your website and social media channels act as a gateway for capturing email addresses and building your email list. If you have a website, place prominent sign-up forms on your homepage. Make sure you integrate your ESP with Amplify, so that you offer visitors the option to sign up through your Amplify artist page. Making the process seamless and straightforward will not only increase the number of sign-ups but also encourage higher conversion rates.
Step 4: Leverage Live Performances
Gigs also offer a unique opportunity to contact fans directly and capture their email addresses. Set up a physical sign-up sheet or use your phone at the merch table to "recruit" people to your mailing list. Couple this with incentives such as a free sticker or an exclusive discount for signing up. Remember, the adrenaline rush of a live show makes it the perfect setting to connect with your fans, so it's an excellent leverage to get more sign-ups!
Step 5: Promote Your Email List
A good marketing strategy is making sure that every platform you're using is interconnected. This also applies to email marketing, where integrating your efforts into your social media is a great way to expand your reach.
Use your social media to drive people to your mailing list through stories, tweets, and cross-promoting with other artists. Come up with incentives that encourage people to sign up, like giving subscribers early access to ticket sales or competitions that reward fans for signing up. Regularly reminding your fans is crucial. After all, the more you keep the conversation going, the bigger the chances of propelling your mailing list numbers.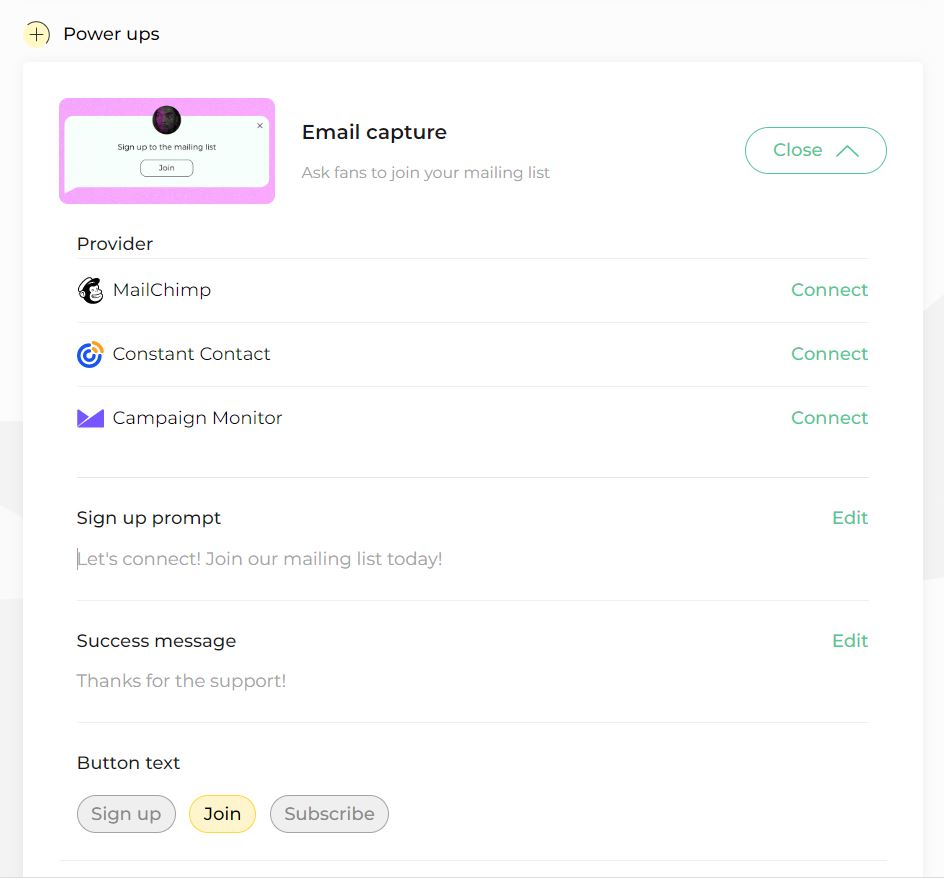 Engaging With Subscribers: Why Nurturing Your Fans Is Essential
Mailing lists are not just about accumulating as many email addresses as possible – it's about building a relationship with the people behind the screen. Therefore, segmenting your mailing list based on fan preferences, time zones or geographical locations is a good way to ensure that you hyper-target your audience with things that interest them.
For instance, if you're announcing a tour in the US, but sending an email to someone living in Germany, chances are they won't engage with it, as it doesn't pertain to them (unless they're a superfan who travels continents, of course!). There's also a chance they would unsubscribe, as the information isn't targeted to them. Segmentation can help you avoid this, and make sure you only funnel the information that the fan wants to know about.
Rewarding your subscribers is another thing to remember if you want to incentivise your fans and turn your mailing list into a community. By providing exclusive content, early access to new releases, limited edition merch, and subscriber-only giveaways, you're encouraging people to subscribe and remain subscribed. This sense of exclusivity goes a long way in cultivating your community, and making them feel valued.
Like any other marketing effort, monitoring your newsletters' performance is essential to ensure that you're constantly improving your efforts. Pay attention to things like subscriber growth, open rates, and what your subscribers click on the most. Then, use these insights to refine your strategy, tweak your emails to your audience's preferences, and improve engagement.
Final notes
In an increasingly congested social media landscape, cutting through the noise is becoming more and more difficult than it was a couple of years back. Through mailing lists and email marketing, you have the power to cut out the middlemen and directly reach out to your fans, without any algorithms that prevent them from seeing your material.
By implementing the above strategies, you have the unique opportunity to create a thriving community that eagerly anticipates your music releases, attends your shows, and actively engages with your content. So what are you waiting for? Integrate your email list with Amplify today!