Introducing AmplifyLink Pro: Your Partner For An Amplified Music Marketing Experience
As Amplify, we've always sought to have music and technology at the heart of everything that we do. Whether you're an independent artist starting out, a small label passionate about your growing roster, or a music promoter looking to take your events to the next level, we've got you covered.
As a result of our mission, we're excited to introduce you to AmplifyLink Pro – a new chapter that involves us supercharging what AmplifyLink has offered to hundreds of thousands of artists around the globe via AmplifyLink Pro from the 1st of May 2023. Here's what AmplifyLink Pro will include.

Key AmplifyLink Pro Features
Distribution
DSP distribution is an essential part of every artist's experience. That is why we're streamlining the distribution process and including it in our AmplifyLink Pro tier.
"As a community-focused organisation, we're constantly listening to feedback from artists. The 90 thousand-plus members that use our tools and services to connect with and engage their fans have often cited distribution as a pain point for their careers," commented Amplify CMO, Sam Bates. "AmplifyLink Distribution is therefore a natural evolution for us when launching our new Pro offering."
The process of using AmplifyLink Distribution is a simple and intuitive one, delivering your music to all DSPs around the world quickly and efficiently. By combining our marketing tools with music distribution, we're enabling artists to take care of their whole release experience – from music distribution to analysing who's clicking on the streaming links. This way, artists can evaluate which marketing approach works best for them and tweak their marketing strategy based on hard data.
We're aware that some of the artists on our platform may have a distribution partner already. Therefore, we want to make it clear that the experience for non-distribution users on AmplifyLink will not change.
Ticket Links and Reward Links
Ticket Links are brand new, event-ready link pages specifically made for music promoters, event organisers, and artists in mind. They link out to all platforms their event and tour tickets are on sale, streamlining ticket-selling efforts.
As with other AmplifyLink pages, you can use our in-depth analytics to discover who is clicking on your links and retarget them across social media through Meta, TikTok, Twitter, and LinkedIn ads. What makes these pages unique is that they are beautifully designed, built in seconds, load instantly, and are optimised for reduced bounce rates to increase conversion – a must for music event marketing.
Additionally, we're also introducing reward links – which expand on our mission to empower artists to create a music community for their fans. Reward links allow artists to reward their fans for joining their mailing list or subscribing to their Youtube channel. Through the "reward link" function, artists can offer downloadable content or exclusive URLs to their most hardcore fans. For instance, you can offer your fans a demo of your upcoming song or early access to your music video in exchange for helping you grow your audience on all the important social media platforms.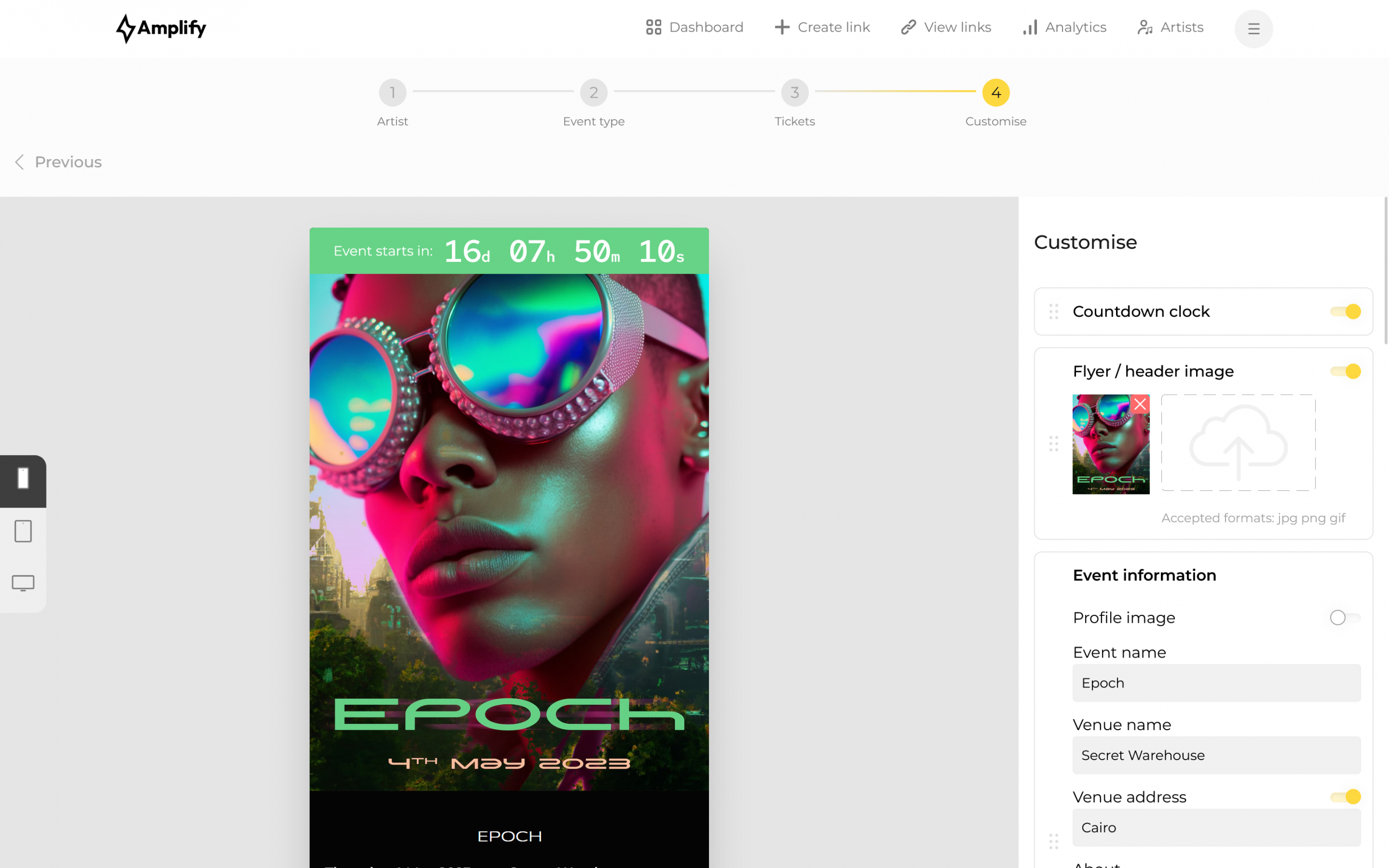 Custom URLs
Custom URLs are the perfect way to cement your brand and make your SmartLink easier to find and distinguish. Through AmplifyLink Pro, we'll be offering three types of custom URLs that enable you to personalise your links.
Our Pro users can create a custom subdomain that showcases their brand name. A custom domain typically improves the click-through rate, as internet users tend to trust custom domains more than generic ones. Moreover, according to VentureBeat, custom domains can increase sharing and possible virality by 25 percent.
Furthermore, having a complete custom domain name such as www.yourname.com gives you the ability to set up server-side conversion tracking through social media business marketing tools, such as Meta Pixel and Tik Tok Pixel. This will significantly improve the data you receive from these tools, and help you more effectively market your music.
Another important reason why custom domains are now crucial for marketing is Apple's iOS changes. Apple announced game-changing updates with iOS 14 that affected how social media companies receive and process conversion events from business tools such as Meta pixel.
To address these changes, social media companies have requested permission through Apple's AppTrackingTransparency framework to measure conversion events occurring on iOS 14 devices. To do so, server side tracking is required. This requires you to have a full custom domain, such as www.yourname.com. Therefore, with a custom domain created through AmplifyLink, you can rest assured that you can still track your audience and remarket to them.
Other unique perks to AmplifyLink Pro
In addition to the above, the AmplifyLink Pro tier will also have a bunch of other exciting perks. Having a dedicated account manager is one of them.
Business customers who sign up with us, such as labels, will have a dedicated account manager who will be on hand to help them with any issues they may have or advise them on the best ways to use our tools when marketing their music. This will ensure that they're getting the most out of our service and help them resolve any issues they may have as quickly as possible.
Additionally, we will also be running our own Amplify Metaverse stage monthly using our partner Condense's cutting-edge technology. AmplifyLink Pro users will get priority access to the Amplify Metaverse stage, where we'll run and promote a monthly showcase for our community using advanced metaverse music technology.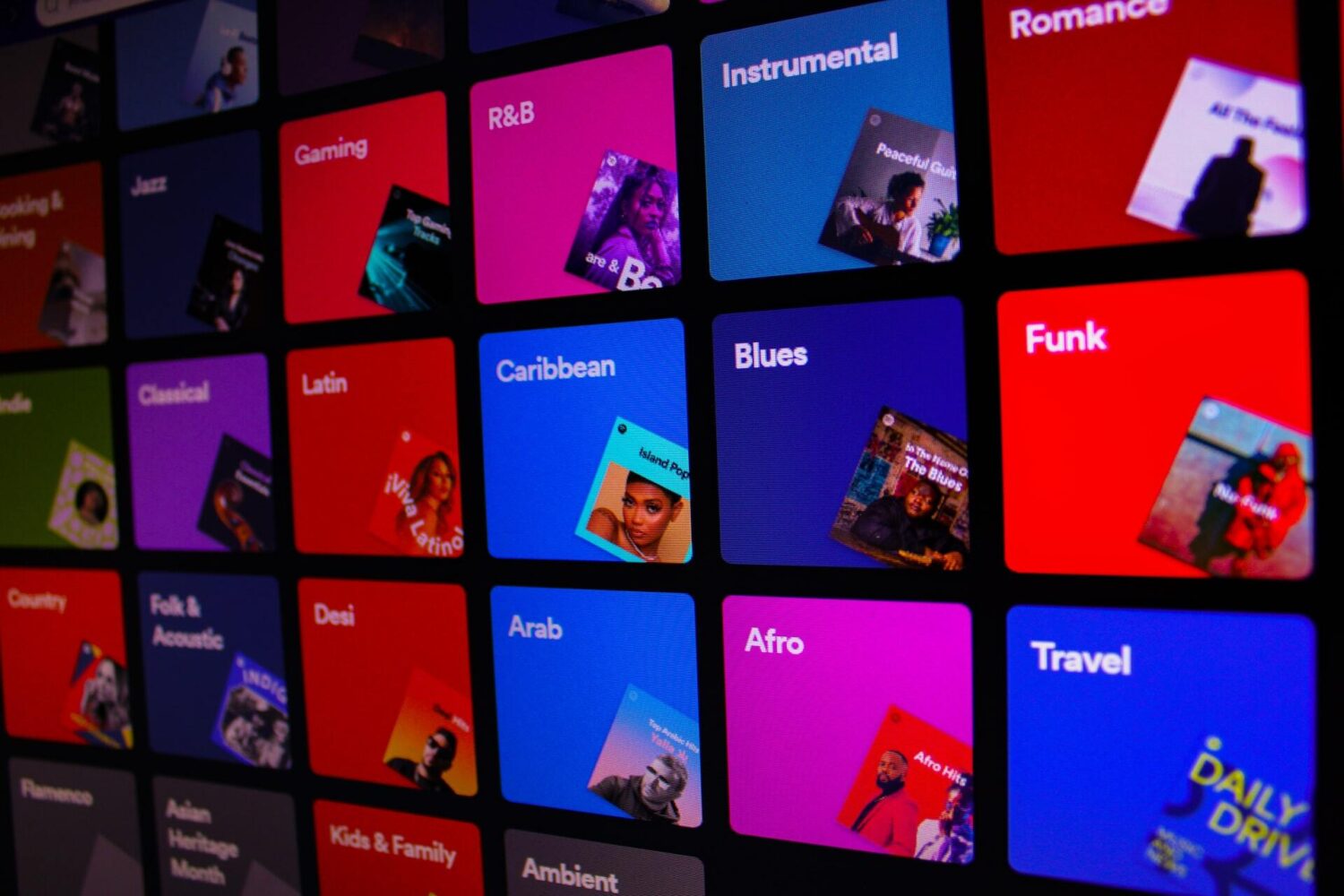 Last but definitely not least, we will also be partnering with some game-changing companies and startups in the music and music tech space that can offer added value to our community. From metaverse technology to educational resources and more tools to grow and engage your fanbase, we want to introduce you to some of the top players in the music industry.
We have previously partnered with the likes of Pirate, Byta, and Soundfly who all offer value to our artist community. To continue on that trajectory, we are pleased to announce that we're now partnered with Daily Playlists. All AmplifyLink Pro users will receive 20% off their Daily Playlists Pro service.
Daily Playlists is a playlist submission platform that provides marketing tools and opportunities for artists. It has helped over 260,000 artists submit their music to curators, successfully placing more than 2,900,000 tracks since it launched in 2018. Artists receive 25 free submissions per week and can submit to over 3,200 active curators on the platform with over 18,000 playlists.
As we continue building and expanding on the core Amplify mission, we invite all of you to check out AmplifyLink Pro on May 1st. Let us know what you think, we will be hosting a full team AMA in our Discord community on Tuesday 25th April to discuss AmplifyLink Pro and what we have planned for the future of Amplify, so if you have any questions make sure you are there.