The New Amplify Lite Paper: 4 Main Takeaways You Should Know About
If you have followed our journey, you are probably aware that AmplifyLink is now completely free to use, as Amplify is now a Web3-powered foundation. We recently published the Amplify lite paper, which explains our goals to create a new music economy that is fairer and more sustainable for music, with artists, fans, and promoters at its core. Here are 4 takeaways from our Amplify Lite Paper.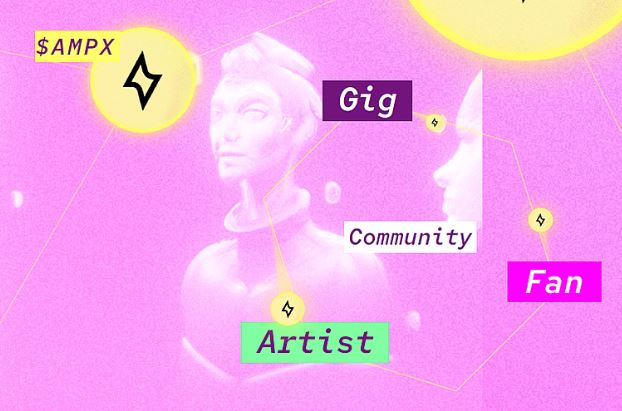 4 main takeaways from our Amplify lite paper
Amplify as a foundation
Amplify is now a non-profit Web3 foundation that aims to bring the next 100 million live music fans to Web3 by building the world's leading live music platform. As part of the intention to really offer something not created for profit and decentralised, the Amplify team removed the paywall from the AmplifyLink product.
By revolving around the concept of ushering in a new music economy, Amplify will use fast-growing tools such as DeFi, self-custodian wallets, tokens, and NFTs. This will enable artists to take control of their careers, create a sustainable revenue stream and become active members of the Amplify Foundation.
AmplifyLive, AmplifyLink and AmplifyYou
Amplify consists of three products, namely AmplifyLink, AmplifyLive, and AmplifyYou. AmplifyLink is a free smart marketing platform that empowers artists to promote their music, gigs, and merchandise. This includes a free smart link service with customisation tools and high-level analytics and insights.
AmplifyLive is a Web3-powered platform that allows investment in gigs to provide long-term sustainable income for artists and their third-party partners. This incorporates DeFi-backed gigs, elevated fan participation, and NFT ticketing.
AmplifyYou is a global community of artists, promoters, and fans who want to bring about positive changes in the music industry. This includes a resource website, a weekly newsletter, a thriving Discord community, and educational outreach via social media.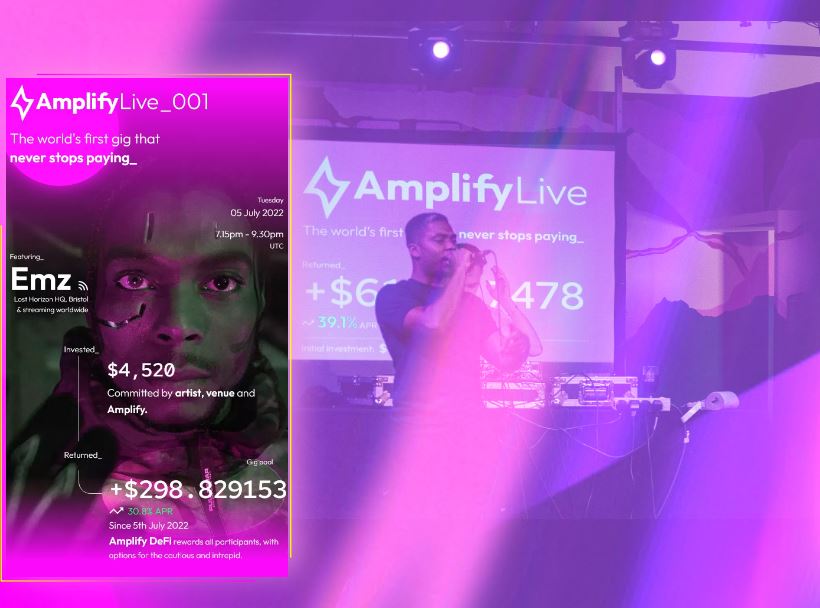 The gig that never stops paying
AmplifyLive will unlock new revenue streams for artists and music professionals to earn a monthly recurring income from their gigs, which goes directly to their Web3 wallet. Each event using AmplifyLive will be tailored to the needs of the participants. How the revenue is split is decided by the event's participants.
Undoubtedly, AmplifyLive will open up new levels of entrepreneurship and ownership for artists. This is because it will allow independent artists to earn recurring income from their gigs and become their own promoters.
The $AMPX token
The Amplify $AMPX token is a foundational part of AmplifyLive. Artists using the Amplify platform will receive $AMPX tokens, and artists will be able to claim these tokens at a later date.
Through these tokens, artists can use the platform, buy digital merch, spend them on products through partner services, and benefit from perks and discounts. The Amplify Foundation's treasury will issue an initial 10 billion $AMPX token. Prior to the launch of Amplify's network, $AMPX holders may be able to provide input on where resources are directed.
For more detailed information, you can refer to our full lite paper.