Amplify Announces The Exciting New "Into The Metaverse" Competition
Here at Amplify, we're always looking for ways to help members of our community take their careers to the next level, while also taking a step into the high-tech Web3 metaverse future. Our latest venture – the Into The Metaverse competition – will help you do exactly that.
We've partnered with Metaverse and Web3 specialists Condense and music industry experts Pirate, to bring a 360-degree package that includes a metaverse concert, an all-inclusive trip, free studio sessions, and more. Interested in learning more about the Into The Metaverse competition? Keep reading!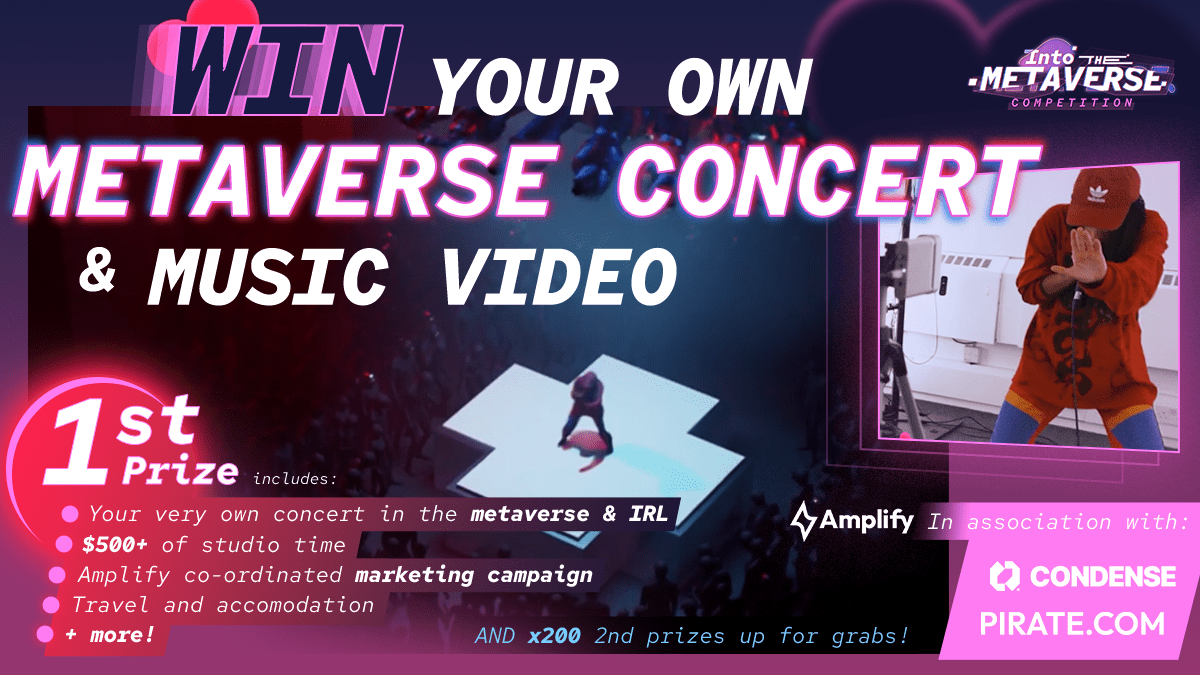 What is a metaverse concert?
First things first – what exactly is a metaverse concert? A metaverse concert – or a virtual concert – is a performance that takes place in a virtual world. During a virtual concert, the artist is transformed into an avatar and performs on a virtual stage, to fans who are also represented as avatars.
It's a good way of reaching fans who might not be able to attend a real-life concert. It's also an excellent way to utilise resources, as you're reaching thousands of fans without travelling.
Metaverse concerts are quickly gaining ground. Artists such as Ariana Grande, Justin Bieber, BTS and Travis Scott have all hosted metaverse concerts. MTV has recently added a new metaverse concert category at the 2022 edition of the MTV Awards. Therefore, it's safe to say that this is just the beginning for metaverse concerts.
About the "Into The Metaverse" competition
The Into The Metaverse Competition will give one winner the chance to perform at their own live metaverse and IRL concert using Condense's volumetric 3D capture technology. Unlike other metaverse concerts that use pre-rendered graphics and audio, Condense will capture the winning artist live and reflect what the artist is doing in real-time, in the metaverse.
In addition to metaverse-related prizes, the winner will receive $500 worth of studio credit at any PIRATE.com studio in the world. Furthermore, they will get exclusive access to AmplifyLive's groundbreaking Web3 technology. This will enable them to earn recurring revenue from their concert on an ongoing basis, as well as a coordinated marketing campaign.
What's more, we'll cover travel and accommodation from any country in the world to the metaverse concert capture and live show in Bristol. You'll also be featured in our event-related content. This includes a mini-documentary, PR and marketing campaign to put your music in front of the right audience.
Learn more about the rest of the prizes here.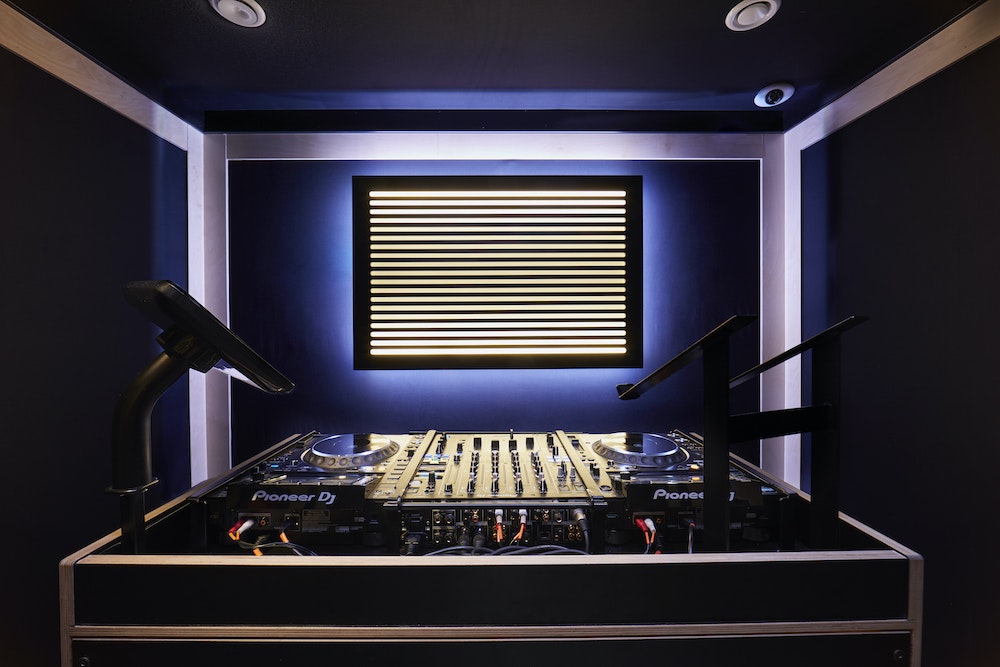 How to apply
Go to the #start-here channel and click the green tick ✅ to verify you're a real human. This unlocks all the hidden channels in the server. Then, go to any channel, type /enter and press enter. A box will appear, which allows you to paste a streaming URL for the release you want to enter with (it has to be from Spotify, Apple or Deezer) and hit enter.
You will be DM'd a link to sign up to AmplifyLink to claim your link page. Finally, your entry will appear in Amplify's Discord #metaverse-competition channel. Share the link page you created on social media. Finally, tag and follow @amplifylink on Instagram or @amplify_link on Twitter, and use the hashtag #AmplifyIntoTheMetaverse.
About our partners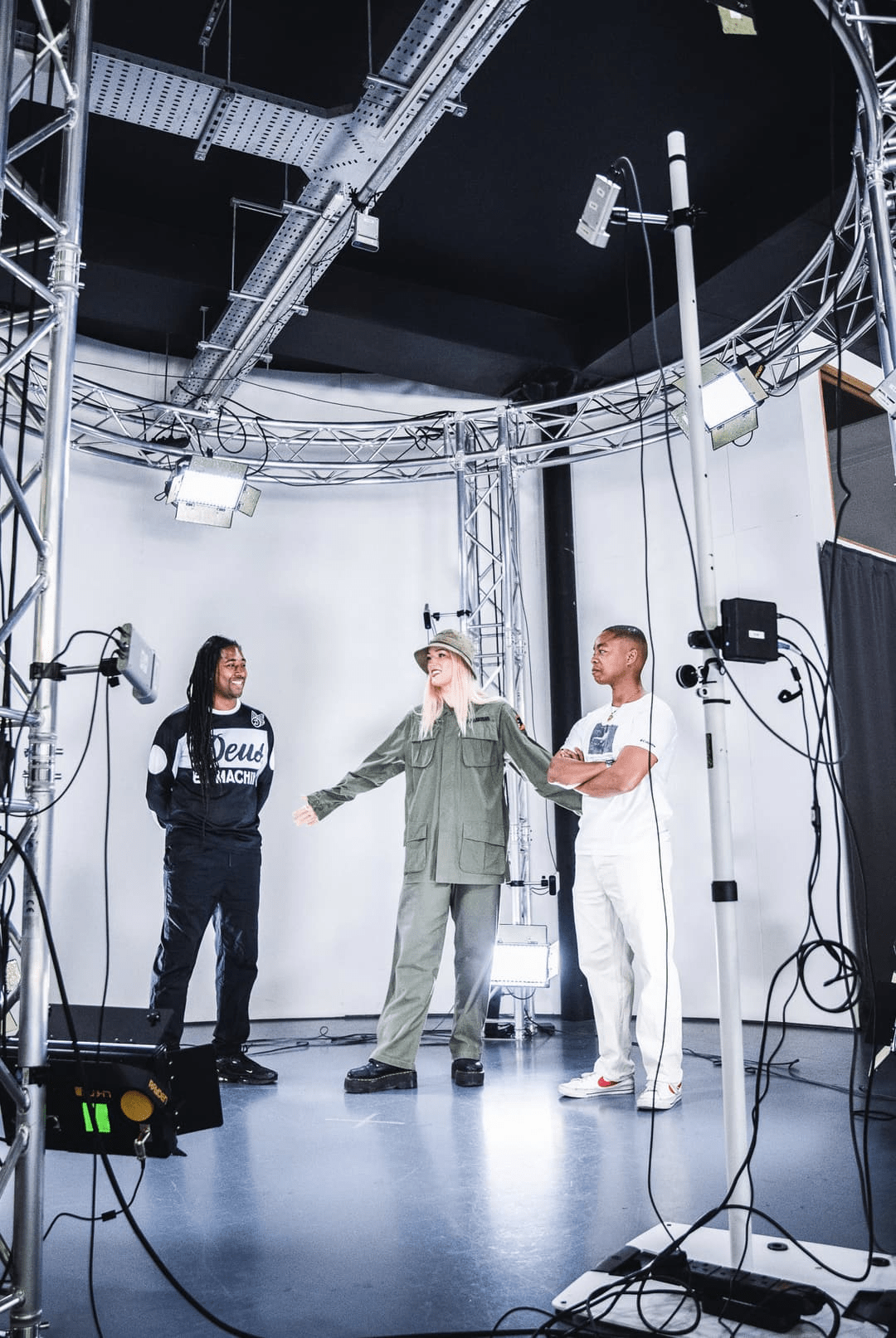 Condense
Bristol-based Condense captures real-world events in 3D, using a portable multi-camera system. Condense then streams the event through its cloud platform. Plus, the company also provides plugins to partners and businesses to integrate 3D video into their own apps.
Condense's mission is to bring events into the metaverse and for event-goers to experience virtual reality. Recently, the company raised $4.5m in a funding round to continue developing its technology.
Pirate
Pirate is a global network of 24-hour studios that offers creatives the chance to record, rehearse, mix, and play – whenever they want.
Using an innovative contactless and keyless online booking system, Pirate is open all day and all night and offers a range of room types. Whether you're a professional or a beginner – their recording, rehearsal, podcast, and DJ rooms provide a private space for you to make as much noise as you like.