Lil Nas X: Gen Z's Marketing Genius
For most people, Lil Nas X's viral hit Old Town Road and his subsequent success may seem like a fluke.
However, little do these people know that the rapper and singer-songwriter rewrote the music marketing playbook by envisaging a future music industry that's built on internet culture, social media, and an unshakeable "DIY or die" work ethic.
The road to viral success
Lil Nas X dropped out of college to pursue music. However, he didn't go about it the normal route. Instead of obsessive songwriting sessions and relentless gigging, Nas spent most of his time online – specifically, on Twitter. He started posting memes and quickly garnered 30,000 followers.
He noticed that when he posted memes, he got a lot of retweets. When he posted a song, he hardly got any engagement. Instead of giving up, Nas started writing songs that could be turned into memes.
Old Town Road was the result of this stroke of genius. It's short, catchy, funny, and most importantly, meme-worthy. On the 3rd of December, 2018, Nas shared a video of a dancing cowboy with his followers, accompanied by the song.
He also created a Reddit thread to ask users for the name of a song using lyrics from Old Town Road. Nas also uploaded his song to all the streaming platforms to maximise his reputation as an established artist.
Nas' efforts didn't go unnoticed. A TikTok user created a challenge that went viral. The "Yeehaw Agenda" inspired a movement, based on the southern Black boy gimmick coupled with the cowboy aesthetic trend.
The viral content catapulted the song to the Billboard Hot Country Songs. However, Billboard removed it from the "Hot Country" chart, as it was deemed "not country enough." Billboard's move served as additional press for Nas. Black Twitter rallied behind Nas and multi-platinum selling country star Billy Ray Cyrus collaborated with Nas on a remix.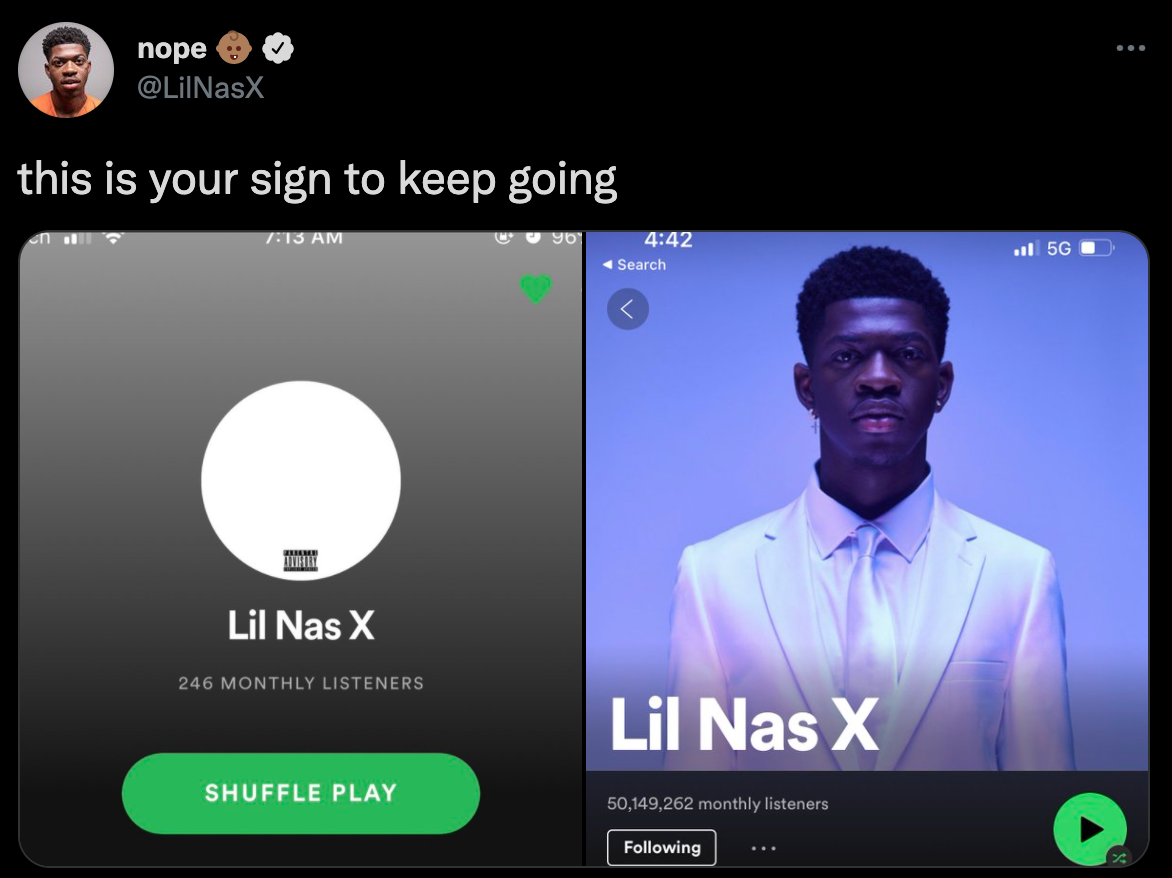 Solidifying his status as a bonafide viral star
Nas continued to refine his marketing strategy for Montero (Call Me By Your Name). His unforgettable and controversial music video spurred countless retweets, YouTube reaction videos, Instagram posts and TikToks. Lil Nas X engaged in the general discourse by interacting with his fans and using social media to the max.
His team also uploaded supplementary videos to his YouTube channel. These include "Satan's Extended Version," "But Lil Nas X Is Silent the Entire Time" instrumental version and "bathroom of hell" version, which were used to promote the song, ramp up streaming numbers and secure the number 1 on the Billboard Hot 100.
Lil Nas X also used the controversy that arose on Twitter to his advantage. Conservative individuals such as the Governor of South Dakota and Nick Young bashed the artist – at the same time, exposing him to millions of followers. Nas leveraged this conservative condemnation by creating a pole-dancing TikTok challenged – #PoleDanceToHell – with a $10,000 reward.
He retweeted the Nas-bashing tweets of religious leaders as well as Fox News' television segment. He also partnered up with YouTuber Zach Campbell for a reaction video that continued diversifying his audience. His row with Nike over the limited-edition satanic-themed (fake) Air Max 97 shoes drove the song's popularity to dizzying heights.
At its core, the song was backed by a strong social message that he explained over Instagram. In an Instagram post, Nas said, "I know we promised to never be 'that' type of gay person, I know we promised to die with the secret. But this will open doors for many other queer people to simply exist." The song pushed queer love and LGBTQ+ artists into the mainstream and served as a call for queer visibility.
Final Notes
Lil Nas X's breakthrough reflects how virality and meme culture is breaking down the barriers to mainstream chart success. His content can be digested by all demographics but mainly targets his main demographic, i.e. Gen Zers and Millennials, who are familiar with meme culture and can relate to his songs' themes.
His marketing strategy is a brilliant example of an internet-savvy artist who uses his talents and skills to defy expectations and societal limitations. In Nas' own words, "u can literally scroll down my account and see my promoting this fuckin song for months. each accomplishment it gets just makes all this shit feel so worth it. I can't stop ta(l)king about it."