The Brave New World Of Virtual Reality Concerts: Interview With AmazeVR
Virtual reality concerts are becoming a hot commodity for the world's top superstars. With Travis Scott's virtual concert grossing more than $20, hosting a virtual reality concert has proven lucrative, reaching millions of fans. To learn more about this expanding niche within the music industry, we met Joe Choi from AmazeVR – the company responsible for Megan Thee Stallion's "Enter Thee Hottieverse."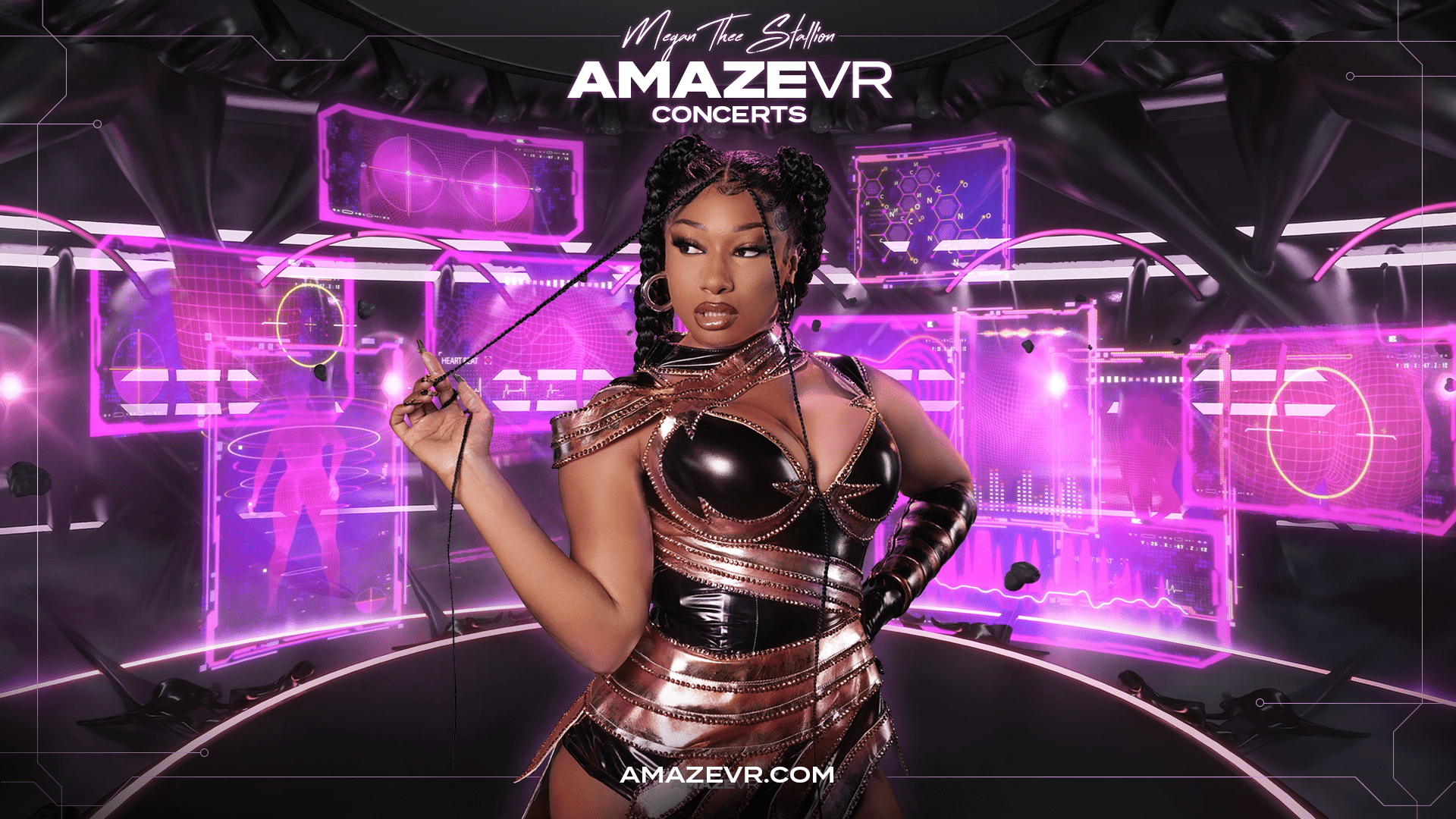 Can you tell us a bit about your role in AmazeVR?
My name is Joe Choi, Senior Strategy and Operations Manager at AmazeVR. Previously, my role focused primarily on leading the in-person execution of the first-ever virtual reality concert tour featuring three-time Grammy award-winning artist, Megan Thee Stallion, in her "Enter Thee Hottieverse." Since the completion of the tour, my role has been primarily focused on assisting with the strategy and direction of our next line-up of artists for our upcoming VR concerts.
How did the company come about, and what was the gap in the market that led to the creation of AmazeVR?
AmazeVR was founded in 2015 by the co-founder and early executives of Kakao (the #1 instant messaging app for smartphones in Korea and now a multi-billion dollar company). Kakao had their IPO, and though majorly successful, the (AmazeVR) founding members still had a thirst for creating innovation that could impact the global market.
Coincidentally, after experiencing a virtual reality (VR) headset called GearVR (an early version of the VR headset made by Samsung) the founding members saw the potential for this technology to become a personalised display that would be able to replace TVs and monitors – just as smartphones had replaced all cell phones. Driven by this belief that VR could be used to "distribute offline experiences" beyond seeing just typical 2D content, a dream was born and the team was officially established in Silicon Valley.
What was it about the music industry that appealed to you?
Music is one of the most promising sectors for future development in the VR entertainment industry. Along with games,the music industry is due for a paradigm shift, and many companies have been trying to innovate the next "big thing." The pandemic only accelerated this shift, as we've seen many attempts spanning from livestreams to virtual concerts to Fortnite shows. All of these other solutions though only provide incremental value from what already exists, and no other solution truly captures the core value for fans – a human connection.
Before the pandemic, the global live music market size was $28.56B. We believe that the VR Concert business has more potential than the live concert business, since there are no physical constraints. Compared to the number of live concert audiences, artists have many more fans with a willingness to pay for high-touch experiences, and VR concerts will be one of the most premium experiences for all fans.
You have recently worked with Megan Thee Stallion on "Enter Thee Hottieverse." In what ways has Thee Hottieverse helped shed light on VR and its use in the music industry?
Working with Megan Thee Stallion and the entire Roc Nation team was an extremely rewarding experience, because we were challenged, both internally and through some great external feedback, to bring our VR concert to the level of quality expected of a superstar like Megan. We knew for our first effort we wanted to blow people away, and Megan's professionalism and feedback pushed us in areas that allowed us to collaborate and create an amazing experience for her fans.
As a result, we were able to learn and improve upon our proprietary camera technology, Unreal Engine-based VR VFX Tools, and AI modules to automate manual tasks and produce top-notch visual fidelity. Visual fidelity is perhaps the greatest contributor to the sense of presence and the belief that the experience is real—in our case, of convincing fans that they really have just met their favorite artists.
SM Entertainment is known for pushing the envelope and being one of the first entertainment companies to incorporate the metaverse. How will your partnership with SM continue to expand K-Pop's influence not only in IRL, but also in the metaverse?
We have always maintained close relationships with K-pop giant, SM Entertainment, and the joint venture was a result of these relationships and the future they see with what VR (and the metaverse) can bring to the music industry.
With the VR market topping nearly 15 million active users in the Meta Quest ecosystem alone, we see this as a great opportunity for artists to expect even more diverse opportunities to reach their fans in VR and the metaverse. Additionally, we are preparing to launch our music metaverse service across all major VR app stores in 1H 2023 with a line-up of established and emerging artists, both from SM Entertainment and in the U.S.—a great opportunity to reach this fast-growing community.
How is AmazeVR contributing to creating a new music economy?
AmazeVR is ushering in the next stage of music. Through our proprietary camera technology and software, we produce virtual reality (VR) concerts, creating entirely new musical experiences that bring fans closer to artists than ever before. Most fans of music don't have the luxury of seeing their favourite artists in concert for a myriad of reasons–scheduling conflicts, geographic location, or financial burden, to name a few. However, our VR concerts offer the immersive experience of seeing your favourite artist up close and personal–even from home. Our goal is to allow fans to be able to experience their favourite artists anytime, anywhere.
AmazeVR is promoting a business that produces and distributes music artists' immersive concerts both online and offline based on our proprietary VR technology. We want to position ourselves as a company that is analogous to both Spotify and Live Nation – but for VR.
We captivated fans (many of whom were first-time VR users) in 2022 with the first-ever VR concert tour featuring three-time Grammy award-winning artist, Megan Thee Stallion, in her "Enter Thee Hottieverse" tour across 15 major cities in the U.S., garnering over 15,000 concertgoers. Moving forward, our VR concerts will be accessible primarily online, and we envision them becoming a key component of all artists' release strategies and album rollouts, setting a new paradigm for both artists and fans alike beyond the existing live in-person concerts.